International Symposium on Preservation and Development of
Great Mekong Sub-region and International Support
Date: 9 April, 2009
Venue: JSCE Headquarters
(Shinjku, Tokyo, Japan)
Access Map
Fee: Free
*Japanese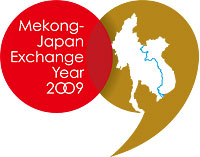 *This symposium is endorsed "Mekong-Japan Exchange Year 2009".

**This symposium is held under the auspice of Foundation of River & Watershed Environment Management

Information
Japan Society of Civil Engineers (JSCE) and The Asian Civil Engineering Coordinating Council (ACECC) take pleasure to announce an invitation to attend the International Symposium on Preservation and Development of Great Mekong Sub-region and International Support. The symposium will be held at the Japan Society of Civil Engineers in Tokyo, Yotsuya on 9 April, 2009.
Organizer
Japan Society of Civil Engineers
The Asian Civil Engineering Coordinating Council
Co-Sponsors
The International Center for Water Hazard and Risk Management, PWRI
University of Yamanashi G-COE Program, "Evolution of Research and Education on Integrated River Basin Management in Asian Region"
Corporations
Infrastructure Development Institute-Japan
Japan River Association
Objective of the Symposium
In the Mekong basin, international assistances have been continued for developing infrastructures of the region and the potential economic growth has promoted increased overseas investments. On the other hand, the region possesses significant biodiversity and cultural heritage. Sustainable development harmonious with those precious resources is grouped. This symposium aims at providing opportunity to enhance our understanding of how the international assistances ought to be for better development and management of the region. Lectures and panel discussion of specialists from sub-region countries and Japan will be provided regarding topics including preservation of environment and culture, capacity building and natural disaster prevention
Themes of the Symposium
1) Water resources and international support
2) World heritage and international support
3) Capacity building and international support
4) Basin development and international support
5)Disaster prevention and international support
Pre-Registration
Send your name, affiliation and email address to the symposium secretary via fax or Email, if you wish to participate in the symposium or receive further information.
Secretary: Hiroyuki Yanagawa, JSCE Int'l Section
Email :yanagawa@jsce.or.jp Fax:03-5379-2769
*Pre-Registration Form
Symposium Program(Tentative)
Morning Session (9:00 - 12:05)
Opening Ceremony(9:00〜9:30)
Special Lecture
(9:30〜10:20)
Norihito Tambo, Professor emeritus of Hokkaido University
"Water aquatic environment"
Session I: Water resources, capacity building and international support(10:20〜12:05)
Hiroshi Ishidaira, Yamanashi Univ.
"Evaluation of the amount of water resource in the Mekong Basin with the distributed hydrological model"
Chhouk Chhay Horng, Institute of Technology of Cambodia
"Water Resources and International Supports"
Sanda Thant, Mekong Institute
"Capacity Building Programs in the Greater Mekong Subregion and International Supports"
Afternoon Session (13:30 - 17:50)
Session II: World heritage and International Support(13:30〜14:40)
Ricardo Favis, UNESCO
"Community Empowerment in Heritage Conservation and Management in the Greater Mekong Sub-Region"
Shinobu Yamaguchi, Tokyo Institute of Technology:
"Use of information technology for sustainable development and management of the heritage town of Luang Prabang, Lao PDR"
(tea break14:40〜14:50)
Session III: Sub-region Development and Disaster prevention and International Support(14:50〜17:20)
Tadashi Yamada, Chuo University:"The Mekong River or Lancangjiang"
Pornwilai Pumira, Mekong Institute:
Phonepheth Mounnarath, National University of Laos:
"New Lao infrastracture development plan and current Lao Professional staff development"
Katsuhito Miyake, Kazuhiko Fukami, Public Works Research Institute:
"ICHARM activities conserning capacity building on disarster prevention on a local community scale in the Mekong river basin"
Summary and ACECC TC Report(17:20〜17:40)
Osamu Kusakabe, Tokyo Institute of Technology
Closing adress(17:40〜17:50)